We have an excellent support staff at The Cat Hospital On Park Street.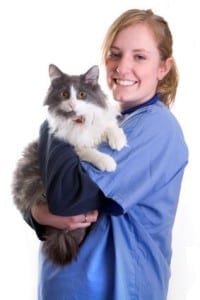 All of our veterinary technicians or nurses, are credentialed from the State of Florida. This means that each veterinary technician completed a minimum of two years of training in an accredited school providing a veterinary technician program and then had to also pass a comprehensive state accreditation examination.
We further evaluate applicants and only select those who are dedicated to cats, as we are, and have a deep desire and devotion to help these special creatures.
You can rest assured that any of our support staff is well trained, experienced, professional and compassionate about cats.
The Cat Hospital On Park Street
22 Park Street South
St. Petersburg, FL 33707
Angie | Certified Veterinary Technician
Angie graduated from St. Petersburg College School of Veterinary Technology in 1996.
She has a background in emergency care, but has most of her experience working in a day practice. Angie came to the Cat Hospital on Park Street in 2003, and thoroughly enjoys working with both our clients and our patients.
Having lived most of her life in Florida, Angie loves the sunshine and spends much of her free time outdoors, especially at the beach.
Angie's four-legged family includes both a ruggedly handsome cat and a very sweet dog.
Anna | Certified Veterinary Technician
Anna joined The Cat Hospital on Park Street's family in 2011.
Anna is a native Floridian, originally from Pensacola. She moved to St. Petersburg to attend St. Petersburg College's Veterinary Technician program, graduating in 2008.
Anna has always been a cat person and she currently has two lovable cats of her own. When not caring for our patients at The Cat Hospital on Park Street, Anna enjoys spending time at the beach with her friends and attending church.
Bree | Certified Veterinary Technician
Bree joined The Cat Hospital on Park Street in 2016, but has been a Certified Veterinary Technician in cat-only practices since 2011.
Originally from Chicago, Bree moved to Florida in 2010. She discovered her love for feline medicine at the age of 15 while working in an animal shelter.
When not caring for the patients at our hospital, Bree loves watching college and NFL football, going to the beach and drawing/painting. She shares her home with two cats and one dog.
Vicki | Office Manager
Vicki joined the team at The Cat Hospital on Park Street in September, 2014 after spending over 10 years in the business side of veterinary medicine.
Originally from New York, she moved to Florida in 2002 with a carload of cats and birds. Vicki graduated from Marymount College of Fordham University with a bachelor's degree in English literature & an associate's degree in math/science.
Vicki is a lifelong cat lover who married a dog person & now has 2 beautiful akitas.
She enjoys spending her free time reading her Kindle by the pool.