Internal
Medicine Services w/Board Certified Internist, Dr. May Li Cuypers
Dr. May-li Cuypers is a Board Certified, Specialist of Internal Medicine. Her state of the art mobile service brings ultra sound and endoscopic procedures to the comfort and familiarity of your family veterinarians' office.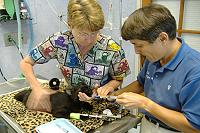 She is available at the Cat Hospital on Park Street on a referral basis.
Some of the services offered by Dr. Cuypers include consultations, ultrasounds, and endoscopy as well as other procedures such as transtracheal wash as depicted to the left. Although there are occasions in which we must refer a sick patient out to a specialty service, this specialist comes to us!
Dr. May Li Cuypers is recognized as a specialist in the field of veterinary internal medicine. Specialty veterinary medicine is a relatively new aspect in animal care. Similar to human medicine specialists, board certified veterinary specialists focus their education and services to one particular area.