Laser Surgery For Better Patient Care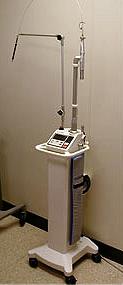 Your pet's health is as important to us as it is to you. We are pleased to offer laser surgery as an exciting new option for safe, comfortable treatment. Soft tissue surgeries traditionally performed with a scalpel can now be done efficiently and effectively with the laser.
What is a laser?
A laser is a device that generates an intense beam of coherent light that can cut, seal or vaporize tissue.
Why laser surgery?
– Less Pain – the laser automatically seals nerve endings, which means the patient feels less pain post-operatively.
– Less Bleeding – the laser seals small blood vessels during surgery.
– Less Swelling – the laser does not bruise or tear tissue, thereby reducing inflammatory responses and hastening healing.
– Quicker Recovery – decreased pain, bleeding and swelling mean that the patient can return to normal activity and the home environment sooner.